Abilene: A Great Place to Buy a Home
Posted by Staci Boren on Thursday, July 6, 2023 at 12:43:46 PM
By Staci Boren / July 6, 2023
Comment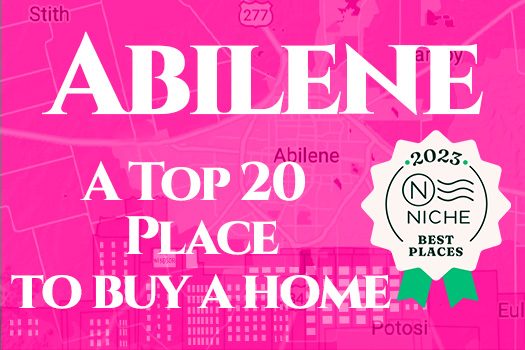 With its friendly atmosphere and abundance of amenities, Abilene offers an ideal combination of affordability and high quality of life. Offering an attractive housing market, reasonable cost of living, and more, Abilene is recognized by Niche.com as one of the 20 Best Places to Buy a Home in the United States and one of the top 5 in Texas. Here are the 5 reasons Abilene is a great place to buy a house.
Affordable Housing Market
Abilene's housing market offers a range of options for prospective homeowners. Whether in the market for a starter home for a young family, a large home with acreage, or something in-between, Abilene has plenty of options when it comes to homes. The best part? They're affordable! According to Niche.com, the median home value in Abilene is below the national average, making it an attractive choice for anyone looking to buy a home. The diverse neighborhoods offer a mix of architectural styles and sizes, allowing residents to find their ideal home within their budget.
Low Cost of Living
In addition to its affordable housing market, Abilene boasts a low cost of living compared to many other cities in Texas. The affordability extends beyond housing and encompasses essential expenses such as groceries, transportation, and healthcare. According to the Council for Community and Economic Research, Abilene's cost of living is consistently lower than the national average. This favorable cost of living allows residents to stretch their dollars further, making Abilene an ideal place to settle down and invest in homeownership.

Strong Community Engagement
Abilene is known for its strong community spirit and engagement. The city offers a tight-knit and welcoming atmosphere, making it easy for newcomers to feel at home. With a vibrant social scene, community events, and a diverse offering of organizations, Abilene provides ample opportunities to connect with neighbors and foster lasting relationships, creating a sense of belonging that is invaluable in any homeowner's journey. From neighborhood block parties to city-wide celebrations, there's always something happening in Abilene that brings the community together.

Schools and Educational Opportunities
The city is home to highly regarded public and private schools, providing students with quality education and extracurricular activities. Abilene is also home to three universities—Abilene Christian University, Hardin-Simmons University, and McMurry University—creating a rich academic environment that offers diverse opportunities for lifelong learning and career advancement.

Natural Beauty and Outdoor Recreation
Surrounded by rolling plains, hills south of town, several lakes, parks, and nature trails. Abilene is a great place for outdoor enthusiasts and those seeking an active lifestyle. Residents can enjoy a leisurely walk or bike ride along the Cedar Creek Trails, explore the trails and wildlife at the Abilene State Park, or take a relaxing fishing trip to Lake Fort Phantom Hill. Abilene's proximity to these nature areas ensures residents can embrace the great outdoors without venturing too far from home.
Abilene's affordable housing market, low cost of living, strong community engagement, excellent schools, and ample recreational opportunities make it an appealing destination for prospective homeowners. Want to learn more about living in Abilene and purchasing a home here? Give us a call, or fill out this form. We love to chat about all that Abilene has to offer.
To see the ranking details visit https://www.niche.com/places-to-live/abilene-taylor-tx/